Meetings are held the second Tuesday of every month.
6:30 pm  Arrival and social gathering

7:00 pm  Business meeting with program to follow
Next Meeting

April 10, 2018 @ 6:30 pm

May 8, 2018 @ 6:30 pm

​Location:

768 East Lemon Creek Rd.

Berrien Springs, MI

​
Please join us for a relaxed and social evening full of wood tuning discusion. We look forward to meeting you and welcoming you into our group!
Michiana Woodturners are proud to be one of over 350 worldwide chapters of the

American Association of Woodturners

We encourage you to join this professional organization.

The American Association of Woodtruners (AAW) is an international, nonprofit 501(c)(3) organization.

AAW's mission is to provide education, information, and organization to those interested in turning wood.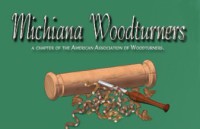 Dedicated to training, preserving, and inspiring the art of woodturning